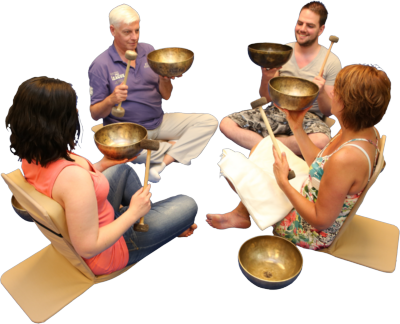 The tangible sound and vibration of Tibetan singing bowls leaves no one untouched. Whether you work with massage, Reiki, hypnotherapy or energetic therapies, as a homeopath, naturopath or as a psychotherapist, working with bowls can usually be integrated into your existing method(s). By playing singing bowls in a correct way or to use in a therapeutic way, you can add something surprising and valuable, for your clients and for yourself.

In this course you learn how to work with various singing bowls. The basic principles and theory of working with bowls are discussed. There is ofcourse a lot of practice. You will learn how to give a complet singing bowl session to give both physically and energetically to others who are in a sitting as well as in a lying position. You'll be amazed of what is possible with a singing bowl!

For anyone who is attracted by the healing power of the bowl, the basic work with singing bowls is a unique learning experience. In this ibasic course you experience the prolonged sounds, vibrations and what it does to your body and psyche. You will also learn simple techniques to play the singing bowls, for yourself and for others. In this course there are different themes, such as
the

bowls

and function

meditation
awareness

tension and

relaxation

grounding yourself and other or to give more energy
beating

techniques
For refreshments, lunch, workbook, necessary tools and supplies are provided.
During the course there are plenty of bowls available to work with.
After completion you will receive a certificate of participation and the possibility of buying bowls and / or other sound instruments and accessories.
Of course you can bring your own singing bowls, but clearly marke so you can always recognize them again.
Time: 1 day, 10.00 - 16.00 hrs
Course fee: € 125, - p.p.
Maximum of 6 people.
Check the calendar if you want to join. You can register using the registration form.