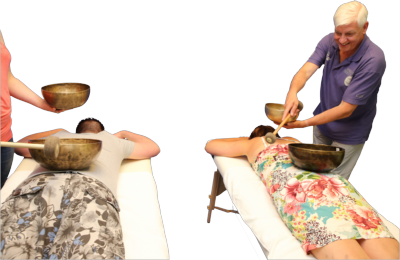 The advanced course consists of a two days course. An excellent addition to the basic course singing bowls. You will learn the basic techniques in giving a singing bowl massage and undergoing massage yourself to experience the function and to understand the techniques. You will discover the beneficial effect of resonance and sound in body and mind. After this two day course you will have sufficient basic knowledge to provide a relaxing sound bowl massage with two bowls. The themes of the basic course will be further deepened.

During the course, cleansing the mind and body will be a focus point. You learn to give a full singing bowl massage with multiple bowls. We will also work on deepening your knowledge and skills in the field of sound and movement.

For refreshments, lunch, workbook, necessary tools and supplies are provided.
During the course there are plenty of bowls available to work with.
After completion you will receive a certificate of participation and the possibility of buying bowls and / or other sound instruments and accessories.
Of course you can bring your own singing bowls, but clearly marke so you can always recognize them again.

Time: 2 days, 10.00 - 17.00 hrs
Course fee: € 205, - p.p.
Maximum of 6 people.
Check the calendar if you want to join. You can register using the registration form.